What is Domain name?
The domain name is actually your unique internet identity that is used by the public to locate and communicate with you. It is formed by the rules and procedures of the Domain Name System (DNS) and it will be registered in the global DNS accessible all around the world. Karachi Web Hosting Providing domain Registration in Pakistan since back in 2008. Almost span of 14 years in serving IT infrastructure nation wide, enables us to better understand this system and know how to register your most wanted business or blogging domain name and powerful backend support to deal with your inquiries, question and guiding the way to select the best online name for you.
Accredited Registrar in Pakistan
We are yet in process to have a direct ICANN recognition to present as a main registrar for all common domain names and hopeful that we will achieve that milestone soon but on the other hand we are already proud member of PKNIC (Main registry for .PK domain) from back in 2008 and our policies and way of introducing us, make us top registrar in Pakistan so right now you can imagine us the top Pakistani domain provider who can sell domains specially like .pk, .com.pk, .net.pk, .org.pk, .edu.pk, .gov.pk & .biz.pk in most affordable prices and since our struggle continue, people are praising us. Thank you for the recognition of our effort! It encourage us to deliver more professional and affordable Domain Registration Pakistan, prominently, mostly used web suffix and other country level extensions like .TV, .CO, .CO.UK, .AE, .COM, .ORG and .NET are not available as lower cost as well are selling.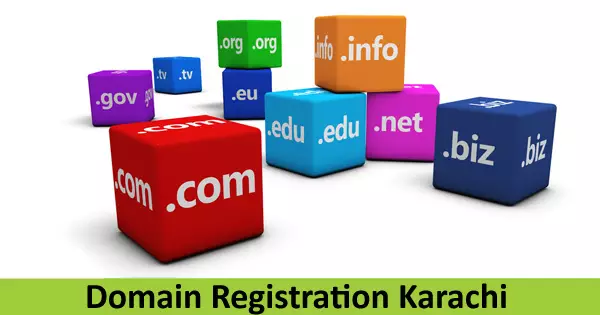 .Com Registration in Pakistan
As There are many domain name registration companies in Pakistan but we are unique. There is big reason. We are not only just registering common domain name in Pakistan like but also registrar all country code domain name including .co.uk. .in, .com.au, .pk etc. These are also called ccTLDs and considered as best domain to boost businesses on international level. A country code top-level-domain (ccTLD) is an internet top-level website name generally used or reserved for a specific country. A country's ccTLD can be differentiated by its dot suffix, for example Pakistan's ccTLD will end with .pk where as the United State of America ccTLD will end with us.
Karachi Web Hosting provides direct registration services for all domain name in Pakistan. The domain name is actually your online address, its presents a great opportunity for local and international companies wanting to represent their business online. By registering a domain name, a company can provide relevant and localized information about product or services they are providing in market. Common domain names such as .com, .biz, .org are good option to give your company a professional image. A good and professional web site demonstrates proof of companies commitment to local customers. Well, there are plenty of options over there to lead the market with quality products and boost up business online. If you are targeting the market place, you can maximize your company's revenues by registering country code domain name for particular region.
If you want your brand expansion in particular region, we urge our client to register country code domain. These commonly used ccTLDs for your website will defiantly do wonders in your brand expansion to your selected region.
Some mandatory reasons are as stated:
Country domain are necessary if you are doing serious s business moves within targeted territory. This approach is helpful for brand awareness among local customers.
Country domain name would give your website a professional reputable image. Unlike when you use common domain name .com, .biz extension, you find huge competition over there. But, When you hit you website with a localized domain extension it give an edge over your competitors and boost up trust of you local clients
Country code and PK Domain are the simplest way to localize you web page. Popular search engine like Google, Yahoo and Bing will classify you website as intended for the local audience. This will dive good local traffic and may also boost user response rate for your website,
Local or country code domain name would useful for maximizing sales and revenue. Fact that big percentage of digital consumer feel more confident to make purchasing from a domestic or local website then generic international one,.
Karachi Web hosting allow its consumer to get fee domain names (selective option) with any web hosting plan. Customers like wise register any international or country domain in lowest prices from us. If you wanna some help for selecting a domain name for your business, personal or community use, do not shy in contacting us.
Well .Pk domains let you own a website address that is unique and easy to recall. Too many webmasters are using the .COM extension. It's the right time to choose a domain name that is different from the rest.